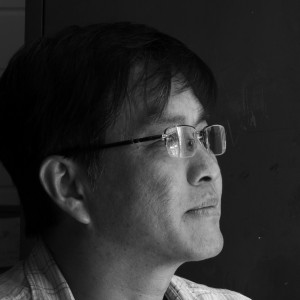 Xuhong Shang was born in Shanghai, China. He received his M.F.A degree in Painting from Tyler School of Art in Philadelphia. He has exhibited his art work at such venues as the Nexus Contemporary Art Center, Atlanta; Aldrich Museum of Contemporary Art, Connecticut; Contemporary Art Museum in Baltimore; Mitchell Museum, Mt. Vernon, Illinois; Muskegon Museum of Art in Michigan; Shanghai Duolun Museum of Modern Art, Shanghai Hongqiao Contemporary Art Museum in Shanghai; Fine Arts Museum in Kumamoto; Richard Gray Gallery in Chicago; Sotheby's in Tel Aviv, Vienna and Chicago; Plum Blossoms Galleries in Hong Kong, Singapore and New York City; Leda Fletcher Gallery in Geneva; Hua Gallery in London; Contrasts Gallery, Eastlink Gallery and Stir Gallery in Shanghai.
Articles have been written on his work in NY Arts, Sculpture, Art Papers and Asian Art News magazines as well as in such newspapers as of The Atlanta Constitution, Nashville Scene, World Journal. His art work has been included in books and catalogs such as New American Paintings (Vol.16); International Young Art 2000, Sotheby's; Euro Art 2000, BCN Art Directe's of Barcelona, Spain; and Mapping the Self, Telfair Museum of Art; a book/catalog titled Representation/Reality, Xuhong Shang was published by Plum Blossoms International Ltd. in the spring of 2001 and a catalog titled Xuhong Shang/Momentary was published by Mitchell Museum at Cedarhurst Center for the Arts in May 2007. In addition, an exhibition catalogue titled Xuhong Shang was published by Hua Gallery in London in October 2012. He is the recipient of a National Endowment for the Arts/Southern Art Federation Regional Visual Arts Fellowship and Art Matters Fellowship.
商徐宏出生于中國上海, 獲美國費城泰勒美術學院藝術碩士學位。他曾經在美国紐約城的 Robert Pardo 畫廊,Z畫廊,万玉堂畫廊,芝加哥的 Richard Gary 畫廊,蘇富比畫廊,亞特蘭大的當代藝術中心,Kiang 畫廊,邁阿密南佛羅里達藝術中心,費城的 S S White 大厦/瞬间艺术,Temple 畫廊,479畫廊,Tyler 畫廊,康州阿屈历曲当代美术馆,巴尔地摩现代美术馆,伊利诺州秘丘尔美术馆,密西根墨斯克根美术馆,上海多伦现代美术馆, 上海虹桥当代美术馆, 日夲熊本美术館, 奥地利維也娜蘇富比畫廊, 以色列塔拉維夫蘇富比畫廊,西班牙巴塞羅纳 Sala Marques de Comillas of Drassanes 城堡,香港万玉堂畫廊,新加坡万玉堂畫廊,英国伦顿 Hua 画廊,瑞士曰内瓦蕾达画廊及上海对比窗画廓,东廊,搞画廊等地展出。
他的作品曾被世界各地的出版物作过专题评论及介绍,"發現自我"畫冊,美國喬治亞州薩凡訥 Telfair 美術館出版,1994年; "風景,邊緣与邊界",Art Paper 雜志,美國亞特蘭大,1995年11月; "商徐宏",雕塑雜志,美國紐約,1996年1月; "新美國繪畫"雜志第16期,Open Studio 出版社,美國麻省威斯理,1998年6月; "二千年國際新銳藝術",蘇富比出版,2000年1月; "簡約之奇",亞州藝術新闻雜志,香港,2000年3月; "歐州藝術2000"畫冊,西班牙 BCN Art Director 出版,西班牙巴塞羅纳,2000年10月; "商徐宏的繪畫",D+A 雜志,香港,2001年1月; "意識与寫實之間-商徐宏"畫冊,万玉堂出版,香港,新加坡,美國紐約,2001年4月; "藝術感覺",Modern Home 雜志,香港,2001年6月; "游走在古今虛實之間",江蘇畫刊,中國南京,2001年第9期; "商徐宏的裝置藝術",雕塑雜志,總35期,中國北京,2003年第3期; "上海畫家在美國–商徐宏",上海灘雜志,中國上海,2004年第4期; "商徐宏"画册,美国密秋艺术傅物馆,美国,2007年5月; "后退 <合成> 快进"画册,对比窗画廊,中国上海,2007年; "商徐宏",NY Arts Magazine,美国纽约,2009年; "玄乎"画册,美国伊州及中国上海,2013。他是美國國家藝術基金會及美國南方藝術聯合會的視覺藝術獎金, 及紐約 Art Matters 藝術獎金獲得者。1999年至2004年任美國堪莎斯州立大學繪畫副教授,研究生导师及繪畫项目主任。现任职于美國南伊利諾大學卡本代爾美術學院繪畫终身教授,研究生导师,美术部(绘画,素描,版画)主任.